DESCRIPTION
The deployment of LTE marks a massive shift in the industry, manifested by fierce competition. Rate plans capitalizing on family, unlimited data, zero contract terms, and frequent device upgrades are examples of the new norm. LTE and recent regulations have significantly reduced roaming revenue. The mere fact that over a million apps are available for iOS and Android indicates an economy aggressively striving for, and investing in the development of services to reside on carriers' networks. Thus far, carriers have eschewed OTT applications for fear of losing control of their customers. The perception of being a "dumb pipe" is objectionable, although that reality is nearly certain. To remain competitive, telecommunications carriers must embrace the mobile data phenomenon by enhancing each customer's experience. Through valued network differentiation, carriers can build brand loyalty, increase revenue, reduce churn, and drive net subscriber additions.
Velleros Aggregation and Syndication Technology (VAST™) Mobile Application and Services (VMAPS™) redefine the customer experience and enable carriers to meet these competitive challenges by combining meaningful and differentiating capabilities into a single carrier branded Mobile App. Tightly coupled with the VAST platform, VMAPS leverages a unique set of carrier-controlled elements comprising the network itself, premium mobile device real estate, and trusted local service provider status, to deliver content with a hyper-local focus.
Velleros' solution combines hyper-local and national content, emergency alerting (WEA/CMAS), local social community engagements and carrier customer care into one, location-based, carrier branded App. Through the bundling of these capabilities, end users can manage all their content delivery needs through a single interface.
In addition, VMAPS enable the carrier to provide geo-specific contextual marketing and advertising to their subscriber base through specific campaigns or on screen banner advertisements, generating new sources of revenue.
VMAPS bridges lifestyles of the web with today's wireless network. It places each end user in control - choosing personalized content deemed useful in everyday life as only individual lifestyles can define. Customized local content such as traffic updates, high school activities, community events, regional news, and weather all play an important part in people's routines. VMAPS puts a powerful tool in the subscriber's hand to select the precise content, timing, and delivery of information, setting it apart from any other solution available today.
ENHANCING THE CUSTOMER EXPERIENCE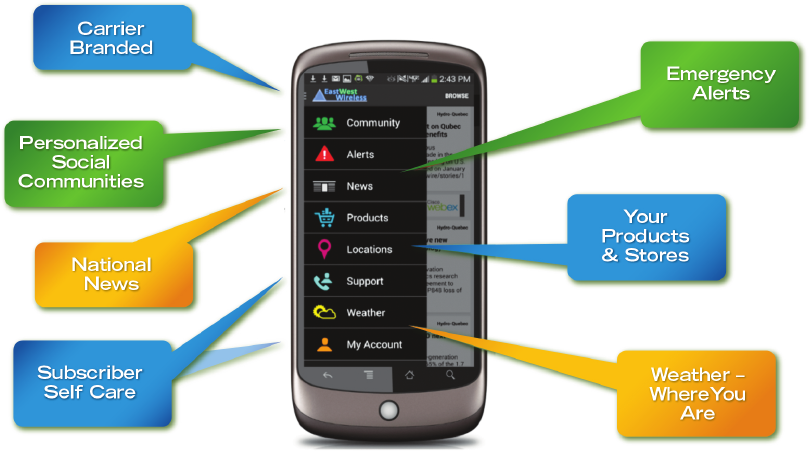 B E N E F I T S
Carrier-branded differentiating service increases customer loyalty, reduces churn, and drives net subscriber additions
Reduces operator expense through subscriber self-help, customer self-provision, and personalized content delivery capability
Generates additional revenue through mobile marketing and advertising ability with imbedded contextual advertising insertion (in-message marketing)
Increases customer loyalty by delivering hyper-local content and easy click thru subscriber self-care
CAPABILITIES
Hyper-Local and National Content Integrates with hundreds of content sources from publishers, web site RSS feeds, syndicated news source and social media. The solution curates, aggregates, and disseminates all of the end user's selected content to a single interface within the mobile app.
Local Social Communities Provides for subscription based and optional password protected content distribution to targeted user groups defined by an organization or business.
Subscriber Self-Care Showcases products and services, and nearest store locations, and provides easy access to online mobile customer service and plan usage and billing information.
Emergency Alerting (WEA/CMAS) Provides fully CMAS compliant message aggregation, screening, formatting, and distribution of national and regional alerts of vital importance to the affected area of the carrier network.
Location Based Services Facilitates applicable capabilities within the app to present information in a geo-specific manner. Store locations are shown by proximity to current location, weather defaults to the current location of the end user, and content is shown in order of items that are nearest to a user's current location.
Contextual Marketing and Advertising Opens an additional marketing channel for carriers to communicate special deals to subscribers, community outreach events, social media content, etc. The publisher interface for hyper-local content provides an effective mini-app for under-served local businesses and organizations to distribute their marketing content to local and interested end users of the app. Ad spaces within the app can be used by the carrier for self-advertising or sold to local businesses that may be contextually relevant to the location in the app (e.g., local sports store ad on sports related content feeds).
User Controlled Personalization Enables end users to browse or search the catalog of available content and to subscribe to his/her choice of the content that is personalized and useful as it applies to his/her everyday life.
APPLICATION EXAMPLES